Heat Shrink And Stretch Wrapping Films
Dan Packaging supply a wide range of packaging Heat shrink films to suit your needs.
These include centrefold display, polythene and pallet machine stretch films
Shrink wrapping films once heated, provide a tight cover around the product they are applied. This can be split into two main groups the first being presentation wrapping when the product wrapped needs to be kept clean and reinforces with the customer that they are purchasing a brand new wrapped product. By wrapping products this way they stay newer on the shelf despite possibly being handled hundreds of times by potential customers. The other main group is transit or bundle wrapping, this can be for products that are wrapped together for distribution through the supply chain or when they are sold in tray or case lots. The film used for this is normally a polythene based product and is used on machines such as sleeve sealing or bundle wrapping machine.
There are various types of shrink film available as shown below.
For use with chamber and L sealing machines
PVC Centrefold Shrink Film

PVC (Polyvinyl Chloride) film is used for a variety of applications and it was the most commonly used shrink wrapping film until the introduction of the newer Polyolefin films several years ago. PVC film works very well with manual machines due to its lower shrink and seal temperatures and was mainly used to package non-edible products such as CD and DVD packaging, small canisters, engineering or automotive parts, however we do supply food safe PVC shrink wrapping films. PVC is still used on older chamber shrink wrapping machines as due to their age and design do not produce the slightly higher heat requirements of polyolefin shrink films.
The main disadvantages of PVC are that when stored in varying temperatures it hardens in cold conditions and has a tendency to split. In addition to this it also releases small quantities of hydrogen chloride when sealing which deposits onto the sealing bar and can damage and reduce the life of your shrink wrap machine. Non of the above happens with polyolefin display wrapping films which you can buy on line at Get Me Packaging our sister company for packaging consumables.
Polyolefin Centrefold Shrink Film
Polyolefin film has become the preferred choice for shrink packaging both edible and non-edible products. It has become more popular for a variety of reasons including fewer odours when sealing, it has much stronger seals and handles lower temperatures far better. Polyolefin shrink films are proven to be far better for machine life and more environmentally friendly as they are 100% recyclable.
Polyolefin films are available with many characteristics enabling us to supply the right film for your requirements. Please feel free to call us on 01246 488 999 and we can arrange for samples of the various heat shrink wrapping films we have to be sent, or we can even arrange for a technician to visit and advise on your shrink wrapping film.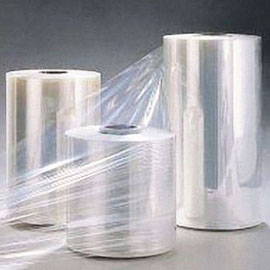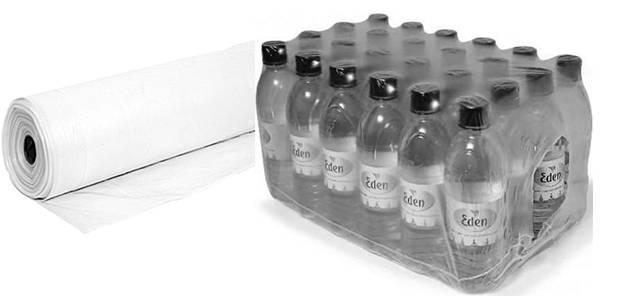 Polyethylene (LDPE) is one of the most widely used films for shrink bundling and transit packaging with a sleeve sealing machine. The film is slit and wound to create film rolls, which is used for a variety of packaging purposes. It has strong, flexible properties that make it ideal for the protection of your products is transit. Polythene film can be manufactured to accommodate the width and thickness required for the type of product you are packaging or bundling. The film is sold per KG (typically 1 roll is approx 25kg) with the minimum order quantity being 250kg converted into rolls.
Polythene is mainly used for bottles and cans, windows, bagged food products, personal care products and many others, It is the preferred bundling material for manufacturers looking to protect and distribute products while reducing pallet costs and ensuring pack integrity as it travels to store or warehouse.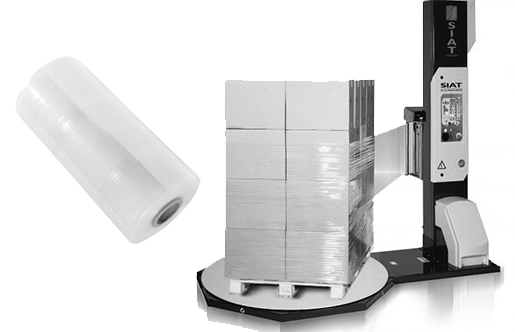 Pallet Stretch Wrapping Film
For use with semi and also automatic pallet stretch wrap machines
Machine stretch wrap film is required when using a turntable pallet wrapping machine.
A highly efficient method of securing palletised loads, the film is dispensed from a roll and applied with a turntable stretch wrapper. The film is stretched longitudinally as it is applied to gently hold the contents together and prevent movement in transit. As the film is rotated and wrapped around the pallet each successive layer applied slightly overlaps the previous one with the self-cling property of the film holding it in place. You can also secure a pallet top sheet to the final layer or goods on the pallet and this will help keep out the elements during transport through the network to its final destination.
Interested? Give us a call to discuss further on 01246 488 999